While exploring some new blogs shortly after the first of the year, I came across the blog "
Quilt Doodle Doodles.
" Cindy was introducing the first section of her Block of the Month that she has planned for 2014. I fell in love with the snowmen blocks that she designed for January that she is calling "Chilly Silly Snowmen" and decided I was going to participate this year.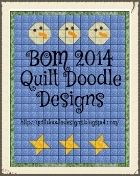 Cindy's BOM is a mystery quilt. The only information she has given is "this quilt will consist of ten blocks, sections, or strips, one a month." The monthly pattern is free during the month that it is announced and then available for a small fee. She also has a giveaway with nice prizes each month for those that participate. Currently she is also having a Blog Hop of the completed quilts from her 2013 BOM. I am so excited to see what she has in store for us for February!
Merrilee